Abbott slams public sector's double baby pay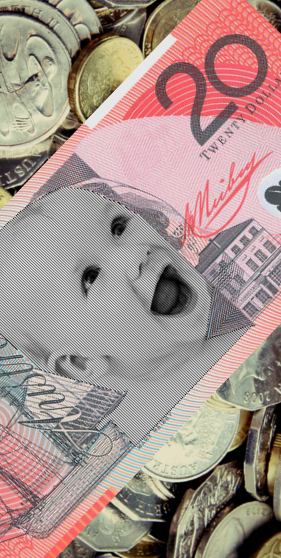 News Corp media outlets are accusing public servants of "double-dipping" into maternity leave.
An article in The Australian claims that hundreds of staff in federal government agencies have been receiving payments from both the existing paid parental leave scheme and the entitlements of their own departments.
The newspaper claims it has figures showing 1110 workers in the Human Services ­Department "accessed both the department's maternity leave provisions and received an allowance in accordance with the ­National PPL scheme''.
Similarly, it alleges the Agriculture Department has 120 employees who accessed two schemes, Social Services Department had 92 workers accessing both, 15 at the Department of Veterans' Affairs, and possibly 9 at the Social Services Department.
Prime Minister Tony Abbott insists that the case of public servants shows that his signature $5.5 billion paid parental leave scheme is fairer.
"If it is right for public servants to be paid at their wage when they go on parental leave, it is right for every single person to get paid at his or her wage when he or she goes on parental leave," Abbott said last month.
But the comparison does not work, according to social policy committee chair for the National Foundation for Australian Women, Marie Coleman.
She points out that the former government's 18-week PPL plan was designed to complement existing entitlements.
Ms Coleman says public servants are accessing the scheme exactly as it was designed.
"The great confusion has been Mr Abbott insisting on describing all of this as double-dipping when in fact it was designed to be complementary. One might say, similarly people who have a small superannuation and also receive a complementary part old aged pension are not in fact double-dipping, they are receiving entitlements," she told reporters.
"The rhetoric of it has been very stupid.
"Mr Abbott has been fond of saying; if it's good enough for public servants in Canberra — note Canberra because it's a wicked place — to get their full wage replacement, why shouldn't the hairdresser or shop assistant?"
Based on talk around the Coalition plan so far, it appears that public servants could choose to "opt in'' to Abbott's proposed scheme, which offers 26 weeks of leave at full pay, capped at $50,000.
It would be funded by a 1.5 per cent levy on the nation's biggest businesses.
The current PPL scheme, as set up by Labor in 2011, allows for 18 weeks leave at the minimum wage and is means-tested.
The Government continues to argue that Labor wants to uphold a double standard by letting public servants "double-dip", while Labor questions the usefulness of a scheme it claims will reward already wealthy women with a long period away from work.