Big health re-jig considered

Print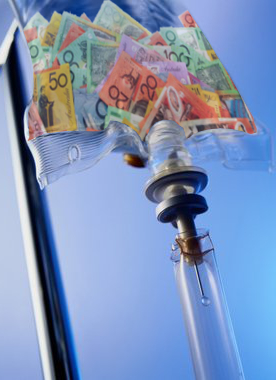 Top government officials are looking at public hospital funding reforms that could see consumers pay more.
Senior health bureaucrats are developing a proposal for a new funding formula dubbed the 'Commonwealth Hospital Benefit', which could see the private health insurance rebate abolished, increased charges for extras cover and force states to provide more money for public hospitals.
Fairfax Media is reporting the Commonwealth is looking at pooling its $20 billion in annual public hospital funding, the $3 billion it pays private sector doctors and the $6 billion worth of rebate money.
The new funding pile would be used to pay a standard benefit for services at both public and private hospitals, effectively reducing federal funding for public hospitals.
The Commonwealth currently covers about 40 per cent of the cost of public hospitals, but the system under consideration would drop that to 35 per cent.
"States would be required to meet the balance of the cost for public patients thus maintaining free public hospital services," the health department reportedly said in a presentation to the taskforce.
The Sydney Morning Herald says private strategic policy think tank Global Access Partners is running the Taskforce on Hospital Funding in the form of confidential meetings under Chatham House rules.
Department of Health boss Martin Bowles and his deputy Mark Cormack – who are in charge of public hospital funding agreements – are listed on confidential participant lists obtained by reporters.
The new approach is aimed at boosting equity and efficiency while reducing admin costs and limiting the Commonwealth's exposure to "cost shifting", which occurs when public hospitals shift costs incurred on public services to private health funds.
The documents allegedly describe significant hurdles if the government takes up the plan, including driving up private health premiums by removing government support for "general treatment" insurance products such as dental and physiotherapy.