Billion lost as millions left by the educational wayside

Print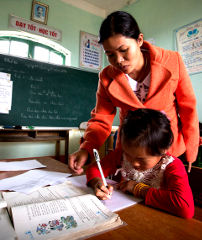 While many complain about the specifics of high school curricula and broad educational ideas, it is worth remembering that for a huge portion of the planet the most basic schooling is out of reach.
A report commissioned by the UN education agency has been released this week, showing the dire state of learning for more than a third of the world's children.
At least 250 million of the 650 million primary school age children worldwide are unable to read, write or do basic mathematics.
Investigators for the report found that there are 130 million children in primary schools that have not achieved the minimum benchmarks for learning, while almost 120 million have spent virtually no time in a classroom.
The cost of the poor state of global literacy is just as damaging as the lack of opportunity.
The report calculates that 250 million children around the world not learning the basics translates into a loss of about $129 billion. In total, 37 countries are losing at least half the amount they spend on primary education because children are not learning.
By contrast, research has shown quality education can generate huge economic rewards, increasing a country's gross domestic product per capita by 23 per cent over 40 years.
The report for the UN Educational, Scientific and Cultural Organization (UNESCO) found that through independent research team that investing in teachers is one of the primary needs.
said UNESCO Director-General Irina Bokova.
"We need 5.2 million teachers to be recruited by 2015, and we need to work harder to support them in providing children with their right to a universal, free and quality education. We must also make sure that there is an explicit commitment to equity in new global education goals set after 2015, with indicators tracking the progress of the marginalized so that no one is left behind."
In about a third of countries, the paper says, less than three quarters of primary school teachers are trained in line with national standards.
"While more children are in school, it's been at the cost of quality," UNESCO's UN representative Vibeke Jensen said.
More information is available in the full UNESCO report.