Boom enters calmer phase, some look for new fields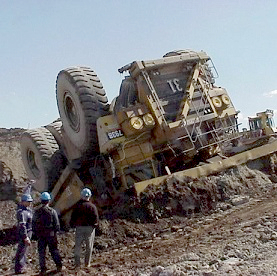 A key government authority has said for the first time that the resources boom is winding down, at the same time as a new study says most Australians did not benefit from it.
In a recent assessment, the Australian Bureau of Resources and Energy Economics (BREE) said the number of projects given the green light in the last six months has fallen and is now at the lowest point in over a decade.
Concurrently, a study commissioned by the Construction, Forestry, Mining and Energy Union (CFMEU) found that while mining profits have surged over the past 20 years, the share of industry income paid in wages has gone down.
The BREE report says "the rush of global investment to increase supply over the past five years" has flooded some commodity markets.
"As such, the prospects for investment at level comparable to the past five years in Australia are limited," BREE said, in the strongest official evidence that the resounding mining boom has quietened.
"Australia as a country and Australians generally haven't benefited from the mining boom, the unprecedented mining boom we've seen over the last ten years," CFMEU mining division general secretary, Andrew Vickers says.
Mr Vickers says the CFMEU would like to see the mining tax changed to secure more benefits, similar to the Norwegian 'Oil Fund'.
The BREE report highlights the need for rapid growth in other industries to fill the economic void dug by the downturn in mining.
BREE deputy executive director Wayne Calder says lower prices and higher yields from overseas operations have meant it is "a little more difficult" for some companies to want to take on fresh projects.
But Mr Calder insists that there is plenty of life, and profit, left in the nation's subterranean efforts, as "Australia has a lot to gain from [the current] production cycle."
The biannual BREE report says the value of committed investment projects has fallen 10 per cent in the six months to October 31.
Five projects, worth a total of $1.7 billion, were given final approval during that period. Seventy-one projects in the planning stage were delayed over the same time period.
Minister for Industry Ian Macfarlane took a slightly more optimistic slant, pointing out that there are 250 projects being planned, collectively worth over $300 billion.
The CFMEU's findings are contradicted by a recent report by the Minerals Council of Australia, which claimed that the mining industry provided $35 billion to local communities, shops and suppliers in 2011-12 alone.