CBA settles touchpad case

Print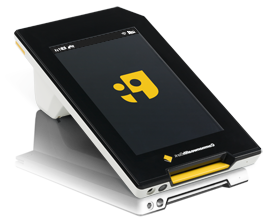 The Commonwealth Bank has settled a discrimination case over touchpad terminals that were inaccessible to the blind.
Nadia Mattiazzo and former disability discrimination commissioner Graeme Innes launched the landmark discrimination case over the devices last year.
The 'Albert' terminals are CBA-branded touchpad payment devices found in thousands of cafes, restaurants and retail stores across the country.
The touchpads have no fixed buttons, so they pose significant issues for blind and vision-impaired users, who cannot orientate where the digits are on the pads.
The bank has agreed on a settlement and will introduce new training and a software update to enhance accessibility for the vision-impaired.
The update will provide an accessibility mode which, when coupled with headphones, will give voice directions through headphones.
The bank has also pledged to start endorsing new accessibility principles for blind and vision-impaired Australians introduced by the Australian Banking Association.
Mr Innes said large companies should take heed and find ways to make their consumer products more accessible.
"One of the benefits of running these sorts of court challenges is that it demonstrates to organisations, in whatever area, that they can't treat people with disabilities differently to the way that people without disabilities are treated," he said.