Footy boss to help tackle SA unemployment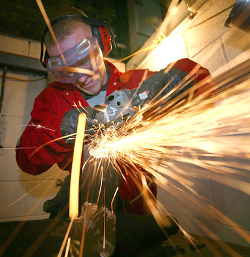 The chairman of the Adelaide Crows AFL team will lead a $15 million investment fund to attract businesses to South Australia.
Crows CEO and former banking executive Rob Chapman has been appointed chairman of the fund, which was announced in the 2015 SA state budget.
Mr Chapman says the fund is an "exciting and a very responsible initiative" that will have a "laser-like" approach to promoting the state to business.
It is something some sectors in SA desperately need, with the state at its highest jobless rate in 15 years of 8.2 per cent unemployment.
"We've got to leave no stone unturned in creating jobs in South Australia and we all know the situation we are in," Mr Chapman said.
"It may indeed get worse as we transition from an older economy, a manufacturing economy to a newer economy.
"This group I am going to lead is hell bent on having a very coordinated and very organised approach, a very targeted one to national and international businesses to come and set up right here in South Australia and allocate capital and create sustainable jobs to contribute to the economic prosperity of this state," he said.
South Australian Premier Jay Weatherill recently called the state's unemployment rate "deeply disturbing".
"[But] what's not widely appreciated is that over the last five months the number of jobs in the South Australian economy has grown every month," Mr Weatherill said on the weekend.
Treasurer Tom Koutsantonis said unemployment would only increase when Holden pulls out of the state at the end of 2017.
He also slammed the job cuts that will come from Federal Government's decision to stop the Clean Energy Finance Corporation from investing in wind energy.
"It's becoming more and more apparent that we are standing on our own, whether it is cars, submarines, GST, we are more and more on our own," he said.