Gas giant aims low in LNG glut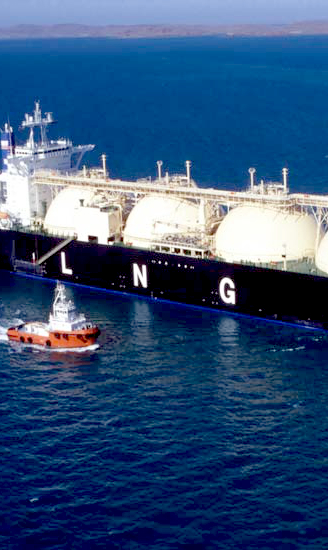 A top figure at Woodside Petroleum says the era of LNG mega-projects is over.
Woodside's executive vice-president for marketing, trading and shipping, Reinhardt Matisons says the oil and gas firm is looking to create new opportunities in smaller markets, like fuelling ships and powering the Pilbara.
Instead of going for more big LNG builds over the next few years, Matisons says it will look to keep its existing LNG trains full and develop new markets.
The supply glut in the LNG market combined with global uncertainties (including fears for the future of nuclear energy in Japan) are making buyers reluctant to commit to long-term contracts, he said.
But Mr Matisons told reporters that companies needed to be willing to invest even when things looked grim.
"Otherwise we'll go back into this boom-bust type cycle," he said.
"We signed a preliminary deal this year with Pertamina... for 15 years," Mr Matisons said.
"There are buyers that are still buying on a long-term basis. Pakistan signed up a long-term deal with the Qataris to underpin its new infrastructure."
His comments are in line with those of Woodside chief Peter Coleman, who late last year told a conference of LNG buyers and sellers in Japan that the company was looking to invest largely in expansions and extensions of existing low-cost production assets.
Mr Matisons agreed that is the best move in the current climate.
"North West Shelf ullage [spare capacity] is something that is important to us and will be a priority," he said.
Demand for LNG is expected to increase by around 4 to 5 per cent per year, which could help ease the over-supply.
"The market will rebalance, and we want to be able to take advantage of that," Mr Matisons said.
"Moving forward our projects to be ready is the best thing we can do ... focusing on costs so we can deliver the most competitive LNG."
Woodside is also keen on floating storage and re-gasification units (FSRUs), which can turn super-chilled LNG into gas while remaining at sea.
Mr Matisons said a ship could be turned into an FSRU in just a year, while it takes three to four years to set up a conventional land-based re-gasification terminal.
"You can get new markets up and running with half a million tonnes or a million tonnes (per annum), rather than three million tonnes and that's facilitated a lot of newer markets," he said.
"We're looking at opportunities where we can help build a market for the industry ... get in and maybe help supply an FSRU. FSRUs are effectively a ship, and we certainly have the technical capability to put in the infrastructure needed."