GetUp and MCA make donation warning

Print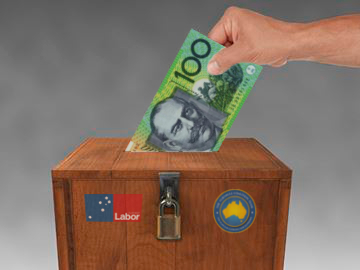 Two very different lobbies have warned against a proposed cap on foreign donations.
GetUp and the Minerals Council are the latest to speak out against the planned reforms, which would make it illegal to covertly interfere with Australian politics on behalf of another country, set up a new register for foreign lobbyists, and ban on political donations from overseas.
GetUp says the requirement for not-for-profit organisations to obtain a statutory declaration from donors who give just $4.80 a week will destroy its revenue stream.
The bill's explanatory memorandum says individuals want to donate $250 or more each year will have to declare themselves an "allowable donor", witnessed by a justice of the peace or a police officer.
GetUp says it would have to monitor cumulative small donations in real time and refuse money once the $250 ceiling is met without a statutory declaration.
The environmental lobby says these measures would destroy grassroots groups' and minor parties' revenue streams.
Meanwhile, the Minerals Council of Australia (MCA) - a mining industry lobby that is often at war with GetUp - has warned against what its call "arbitrary" caps on political expenditure in the bill.
The MCA's interim chief executive, David Byers, said it "requires expenditure" for lobby groups to put their view in the public domain.
"Parliament should exercise a high degree of caution about putting an arbitrary cap on expenditure," he said, adding that that expensive TV ad campaigns it runs "could be regarded as freedom of speech",
Dean of the University of New South Wales' law school, George Williams, told the Senate inquiry that the foreign donations ban would be "easy to evade" without the caps.
Professor Williams said foreign entities would simply donate through a dual-national or "set up a $200 shelf company" to push money into the Australian system.
He said the federal government should look at NSW's electoral finance system - which has with caps of $5,000 on donations, real time disclosure and caps on political expenditure – for effective measures to prevent external interference.