Giant firm splits to save favourite assets

Print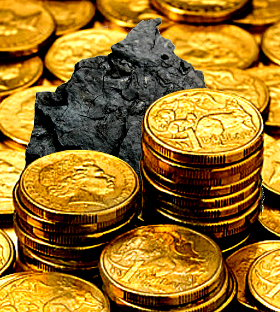 BHP Billiton is splitting in two, spinning-off some of its less valuable divisions into a new company.
The biggest mining firm in the world will undergo its most significant restructure in over a decade, after announcing it would move its 'second tier' assets over to a new company, and hold it's 'first tier' divisions under closer scrutiny.
The new entity will contain BHP's struggling aluminium division, its small but viable manganese holdings and a number of nickel assets it has been trying to sell-off.
The company has announced which operations it will keep close to the heart.
"We believe that a portfolio focused on our major iron ore, copper, coal and petroleum assets would retain the benefits of diversification, generate stronger growth in cash flow and a superior return on investment," the company said in a statement.
There has been plenty of talk about BHP's decision to keep its coal assets as a central 'pillar', given that many believe it is on the way out as a dominant force in energy generation.
Coal will remain an integral part ins steel-making and other manufacturing processes, but its future role in the electricity industry could be anybody's guess.
Investment fund Pengana Capital's manager Tim Schroeders has told the Sydney Morning Herald that coal has been given a lucky break.
"Arguably assets that should be looked at that aren't going to be included in that spinout are things like the coal assets," he said.
"Over the long term it is structurally very difficult to defend those assets as being 'tier one' and part of BHP's long-term future."
BHP remains the world's biggest producer of seaborne coking coal, and ranks highly for thermal coal production too. Its coal stock brought massive profits early in Australia's mining boom, but now struggles to stay profitable in the face of very low prices and fierce competition.
In fact, coal delivered just $US746 million of BHP's $US21.12 billion earnings in the 2013 financial year.
Global interest is fading too, as an increasing number of "ethical: investment funds avoid buying into coal.
Somewhat alarmingly, Norway's sovereign wealth fund is considering banning itself from fossil fuel investments. The Norwegian bank is among the five biggest shareholders in BHP.