Glencore goes for Rio coal

Print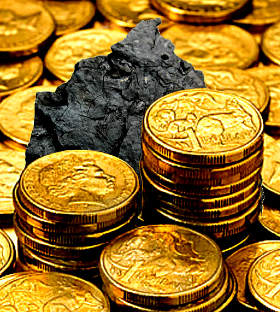 Glencore has raised its offer for Rio Tinto's coal mines.
Glencore is in a bidding war with China's Yancoal, who Rio has named as its preferred buyer for its coal subsidiary, Coal & Allied.
Coal & Allied owns majority shares in the Hunter Valley Operations mine, the Mount Thorley mine and the Warkworth mine, which together produced 25.9 million tonnes (Mt) of thermal and semi-soft coking coal in 2016.
Glencore has made a new $US2.68 billion ($A3.54 billion) cash offer, up from a $US2.55 billion bid it made earlier this month.
It is now considerably higher than Yancoal's $US2.45 billion offer.
Glencore is also offering to pay in full once a deal is completed, removing the deferred payments of its previous offers.
"We believe the Glencore offer satisfies the criteria for a superior proposal: it delivers substantially greater value to Rio Tinto shareholders and low deal completion risk," a Glencore statement said.
"Rio Tinto must provide Yancoal with the opportunity to present a counter offer. If any such counter offer is determined by the Rio Tinto board to be equally or no less favourable than the competing proposal, then Rio Tinto must accept the Yancoal counter offer."
Glencore already owns coal assets in the Hunter Valley region, and says it can bring considerable savings by joining the two businesses through acquisition.
Rio said it would "give the new proposal appropriate consideration".
If Rio accepts Glencore's offer, Yancoal will have two business days to make a counter bid.