Government puts up $200 to keep marriage happening

Print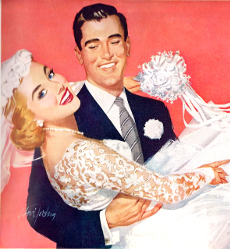 Australian newlyweds will receive a $200 voucher for marriage counselling in a Federal Government effort to keep couples together for life.
Social Services Minister Kevin Andrews announced the vouchers as part of the Federal Government's $20 million scheme to fight family breakdowns. It will include a 12-month trial for 100,000 couples starting on July 1 this year.
The Federal Government believes it knows how families should work, and is willing to spend taxpayers' money to propagate its ideals.
"The evidence shows that strong relationships between parents make a substantial difference to a child," Mr Andrews said.
"Australian research also consistently finds that marriage and relationship education assists committed, married, engaged or cohabiting couples to move through the phases of their relationship with improved relationship skills, strengthening relationships for up to five years."
The $200 can be spent on marriage and relationship education and counselling, parenting education, conflict resolution and financial management education.
The scheme is aimed at already married couples, but will include those intending to tie the knot or in committed same-sex relationships.
A large amount of pre-marriage education sessions are conducted by churches, which in the past have provided information a number of skills and practices which were not deemed acceptable prior to matrimony.
Centacare Catholic Family Services co-ordinator of pre-marriage education Jennifer Mason says time is the key.
"Couples provide overwhelmingly positive feedback, they speak about the advantage of being able to dedicate time to their relationship," she said.
"Programs like ours are really about couples taking time out from their daily life, having some dedicated time together and looking at improving their skills."
"Newlyweds face problems like all couples."
The program seems to be a long-running favourite of the Social Services minister, who first proposed it as a policy at a National Marriage Day celebration dinner in 2010. It was first recommended by the anti-same-sex group the National Marriage Coalition (founded by the Australian Christian Lobby) in its Marriage Manifesto in 2007.
It is expected to begin paying-out by July this year.