Health raise proposed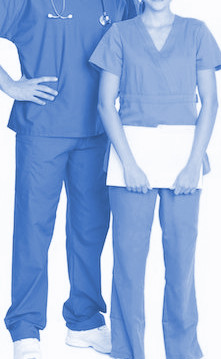 Economists want those on the medical front line to be rewarded with increased wages.
The Centre for Future Work says in a recent submission to the Fair Work Commission's minimum wage case that low-paid medical workers, who are predominantly female, need a pay rise.
Economist Alison Pennington says such a measure would both inject cash into the post-pandemic economy and narrow the wage gap.
"It's one of the most simple things and most straightforward things that government and the commission can do right now to save us from that deflationary cycle," she told the ABC.
The senior economist for the Centre for Future Work, Ms Pennington concedes that many employers will be reluctant to increase wages during an economic downturn. She says even women in feminised industries may find it strange.
"The pandemic and the thrusting of their wage base into the spotlight right now: in an economic sense, it does present a challenge for those women workers because they are the least likely to step up and say we need, we want to increase our wages at this time because it's in the interests of everyone but that is the truth of it," she said.
Australian College of Nursing chief executive officer Kylie Ward is concerned that nurses may be caught up in a push to freeze wages during post-pandemic austerity.
"We've just witnessed an incredible profession turn up and deliver, and these are the people that go home and worry about their families and themselves but never shied away from caring, and here we are worrying about 2 and a half per cent," she said.
"Where is the reality around that?
"It should never be preyed upon, the goodwill of women, and people, to keep this abusive cycle of not paying them their worth."
Ms Pennington says now is not the time to focus on the bottom line.
"The issue is now, in the midst of a pandemic and an economic crisis that may become a depression, employers are looking to secure their bottom line," she said.
"If we cut the wage base across the entire economy including women in essential work, it actually is a very dangerous and risky move.
"We are teetering on the edge of deflation and what we need right now is to turn that social value that we have for those people who are working their butts off now to keep us safe into a wage increase.
"So it's about recognition but it's also a macroeconomic stability necessity."
The Australian Council of Trade Unions (ACTU) has been pushing for a 4 per cent increase, and noted in its March submission to the Commission that:
"Around 61 per cent of the workforce directly dependent on the decision of the panel are women, and the most highly award-dependent sectors tend to be feminised industries. A decision of the Panel to uniformly lift minimum wages is a centrally important mechanism for reducing the gender pay gap and addressing the gender-based undervaluation of women's work."