Leaders call to end coal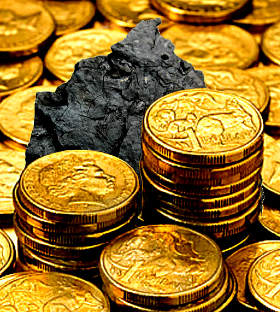 Twenty-two eminent Australian scholars and health experts have signed a letter demanding the Federal Government phase out coal by 2050.
The Government has rejected a United Nations (UN) report warning that world has 12 years to limit a climate change catastrophe.
In a stinging statement published by The Lancet, the Australian health professionals declare the Government's "contemptuous dismissal" of the IPCC report, including a recommendation to dramatically reduce coal power by 2050, "unacceptable".
"We are dismayed by the implications of our government's ongoing stance to disregard the consensus of the world's leading climate scientists, the precautionary principle, and any idea of duty of care regarding the future wellbeing of Australians and our immediate neighbours," the editorial notes.
"Australia is the world's largest coal exporter … and The Global Burden of Disease estimated that in 2016 around 2.5 million deaths worldwide were due to burning solid fuels including coal."
The authors call on the Australian government to move away from energy sources that harm human health and the planet, and towards renewable energy, and also commit to:
No new or expanded coal mines, and no new coal-fired power stations
Phasing out existing coal-fired power stations and scrapping subsidies to fossil fuel industries
Increasing the national renewal energy target to at least 50 per cent by 2030
Developing economic transition plans for communities affected by the phasing out of fossil fuel industries
Supporting Pacific island nations to prepare for and adapt to climate change
The group, which includes Nobel Laureates Professors Peter Doherty AC and Tilman Ruff AM, Professor Fiona Stanley AC, Professor Alan Lopez AC, and Professor Brendan Crabb AC, says it is shocked by the Government's repudiation of 90 experts from 40 countries who referenced more than 6,000 scientific reports.
The UN Intergovernmental Panel on Climate Change (IPCC) found that unprecedented social change is needed to achieve a global reduction in carbon pollution of 45 per cent by 2030 to limit global warming to 1.5 degrees Celsius above pre-industrial levels.
The IPCC report warns the world risks 'tipping points' if warming is allowed to reach 2 degrees Celsius, setting a course towards uncontrollable and potentially catastrophic temperatures.
Professor Tony Capon from the University of Sydney's School of Public Health said; "Climate change is already harming health in Australia and around the world by amplifying the frequency, intensity and duration of extreme weather events such as heatwaves, bushfires, droughts and tropical storms".
"The Australian Government needs to take climate change much more seriously. For the sake of the health of our children, and future generations of Australians, the government simply must act urgently and decisively."