Map shows insurance risk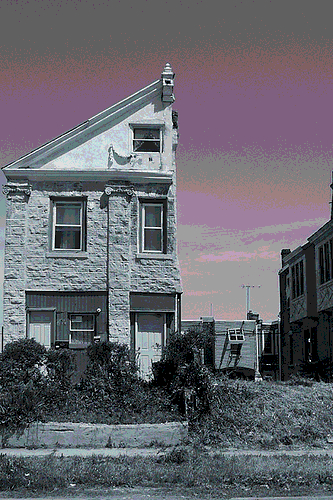 The Climate Council says one 25 Australian properties will be effectively uninsurable by 2030.
A new report includes hundreds of millions of data points analysed by Climate Valuation, which the Climate Council has transformed into a new interactive Climate Risk Map.
The map coincides with the launch of a new report, 'Uninsurable Nation' (PDF), which takes a detailed look at the most at-risk electorates in Australia and calls for urgent action to reduce emissions this decade to avoid the situation deteriorating further.
Emissions from industrial processes, the burning of coal, oil and gas is supercharging the world's weather systems.
While climate change affects all Australians, the risks are not shared equally. In the most extreme instances, areas may become uninhabitable.
Worsening extreme weather means increased costs of maintenance, repair and replacement to properties, homes, workplaces and commercial buildings.
As the risk of being affected by extreme weather events increases, experts say insurers will raise premiums to cover the increased cost of claims and reinsurance.
"It is clear that Australia is fast becoming an uninsurable nation. Skyrocketing costs or flat out insurance ineligibility are becoming more and more widespread under climate change," says the Climate Council's Nicki Hutley, an economist and former Partner at Deloitte Access Economics.
"As an economist, I find these new numbers shocking and deeply concerning.
"I urge all Australians to use this tool to understand the risk they and their communities face as we progress through this critical make or break climate decade.
"This map makes it clear that the emissions pathway the next federal government sets us on will play a critical role in determining the insurability and future prosperity of entire communities and regions across the country."
An early example has also come this week, with new data that shows this year's floods have been Australia's costliest.
New data from the Insurance Council of Australia (ICA) on the storms and floods that impacted South-East Queensland and coastal New South Wales in February and March, showing that the event is estimated to be Australia's costliest flood ever.
Using actual claims costs from 197,000 claims across both states, the event is estimated to have cost $3.35 billion in insured losses.
This makes the event the costliest flood in Australia's history, and the fifth most costly disaster after the Eastern Sydney Hailstorm (1999, $5.57 billion), Cyclone Tracey (1974, $5.04 billion), Cyclone Dinah (1967, $4.69 billion) and the Newcastle Earthquake (1989, $4.24 billion). All of these costs are normalised to 2017 values in the data.
The rise in claims costs compared to previous floods is being driven by higher costs in the Personal Property, Personal Contents and Commercial Property classes reflecting the increased cost of materials and a challenging supply chain environment.
"We knew that this year's east coast flooding was one of the biggest floods in our history, but these updated numbers show that in monetary terms it was in fact the biggest ever," says Andrew Hall, ICA CEO.
"Only four other disasters have cost more, and this is not a record we want to beat."