Minister for Women sees progress at men's club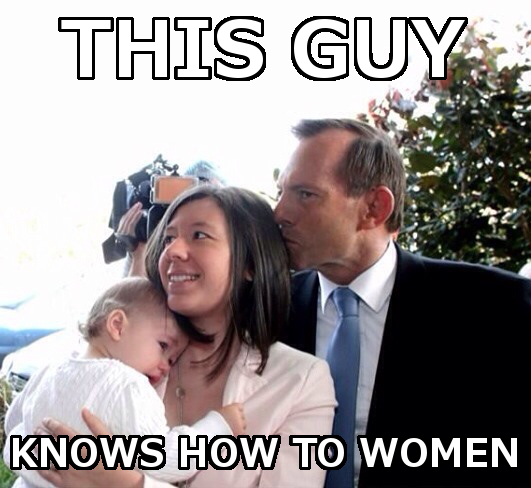 The LNP will hold its International Women's Day event at a men's club, while other groups show how to do it right.
Prime Minister Tony Abbott says holding an International Women's Day event at Brisbane's men-only Tattersall's Club shows the party is "smashing the glass ceiling".
But that smashing will be very temporary, as the next day Tattersall's will go back to only admitting women when they are accompanied by a man.
Mr Abbott was questioned about the appropriateness of the venue, and replied with the sort of sarcastic mockery that many use to describe his own role as Minister for Women.
"I say congratulations and thank God that bastion of old fashioned chauvinism has finally collapsed like the walls of Jericho at the trumpet cry of the Liberal and National Party. Good on you," he told the Federal Parliament."
"Obviously they've now broken down the last barrier and they've made the men-only club admit women.
"Isn't that fantastic. At last," he said.
Meanwhile, in the Northern Territory, prominent Indigenous women will share stories about their work "on country" at an annual International Women's Day event on Friday.
Charles Darwin University's Northern Institute Director, Professor Ruth Wallace, says the event will focus on encouraging young Indigenous women to consider a career in research.
"This event provides an excellent opportunity to celebrate the research achievements of local Indigenous women, many of whom are leading researchers," Professor Wallace said.
And overseas, a small group of Afghan men have marched through Kabul wearing sky-blue burqas marched to draw attention to women's rights.
An activist named Basir told reporters that the march – organised by a group called Afghan Peace Volunteers – took women's rights "to the streets."
"One of the best ways to understand how women feel is to walk around and wear a burqa," he said.
Another of the men on the march said that wearing the full-body covering with only a small mesh 'window' over the face, felt "like a prison".
The group of about 20 mean carried signs reading: "equality" and "Don't tell women what to wear, you should cover your eyes," a Reuters correspondent reported.
"What is the point of this?" a 24-year-old traffic policeman asked.
"All of the women in my family wear burqas. I wouldn't let them go out without one," he said, answering his own question.