NDIS access has slow postcodes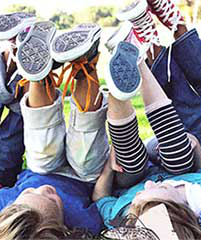 Investigations have found that children's access to disability funding appears to depend on where they live.
Children with developmental issues such as autism need official diagnoses to get federal government support under the NDIS.
Official guidelines say children should wait no longer than three months for a developmental assessment, but a media probe has found the shortest waits occur mostly in the richest suburbs, with wait times well over a year in other areas.
In south-western Sydney, children with developmental delays typically wait a year for an appointment with a specialist team. Meanwhile, at Sydney Children's Hospital in the affluent suburb of Randwick, children wait between two and 10 months for an assessment.
Children in Melbourne's south-east also wait an average of 12 months for an assessment at Monash Children's Hospital in Clayton, while figures from the Royal Children's Hospital in the more affluent suburb of Parkville, show a median wait time of six months for an appointment.
Additionally, Monash Children's Hospital is forced to reject around half of its referrals for developmental delays because of a lack of "service capacity". This is causing some poorer parents to dip into their own pockets to get their children a diagnosis in the private system.
If all appropriate referrals were accepted, the stats show wait times would be in excess of four years.
"It's a form of developmental apartheid," federal Labor MP and paediatrician Mike Freelander has told the ABC.
"Most people would want an equitable NDIS, but we've allowed it to develop, and in a way we've allowed the health system to develop, where your health outcomes and your developmental outcomes depend on your postcode."
Associate professor Julian Rait from the Australian Medical Association (AMA) says there is a big difference between what the Government says is happening and what people are actually experiencing.
"I think [the Government is] out of touch with what the NDIS are actually doing," he told reporters.
"We would encourage the Government to have a conversation at least with the NDIS about this."
The Federal Government insists this is not the case.
"Children aged under seven years with developmental delay or disability can receive ECEI [Early Childhood Early Intervention] supports tailored to their individual needs. Support will be in line with best practice to increase functional outcomes and social participation," NDIS Minister Stuart Robert said in a statement.