New deal for US sub tech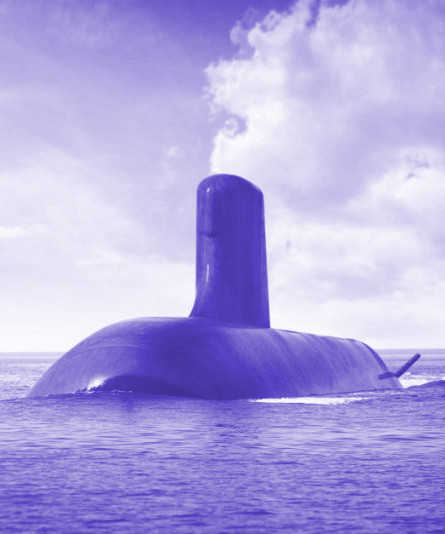 After years spent chasing diesel technology, Australia is going nuclear.
In a joint press conference, US President Joe Biden, Australian Prime Minister Scott Morrison and British Prime Minister Boris Johnson have announced a new trilateral partnership dubbed 'AUKUS'.
The new partnership is intended to strengthen the military presence and operability of allies in the Indo-Pacific.
It will see Australia obtain nuclear submarines for the first time, in a move that is expected to send a strong message to China about regional capabilities.
Mr Morrison says the new submarines will be built in Adelaide, but without establishing a civil nuclear industry.
"The future of the Indo-Pacific will impact all our futures. To meet these challenges, to help deliver the security and stability our region needs, we must now take our partnership to a new level," Mr Morrison said.
"The first major initiative of AUKUS will be to deliver a nuclear-powered submarine fleet for Australia.
"Over the next 18 months, we will work together to seek to determine the best way forward to achieve this. This will include an intense examination of what we need to do to exercise our nuclear stewardship responsibilities here in Australia."
It is only the second time the US has shared its military nuclear technology, the first being a deal with the UK in 1958.
"We see this as a very rare engagement between Australia, Great Britain and the US," a White House official has told reporters.
"We've done this only once 70 years ago, with Great Britain. The technology is extremely sensitive and is a major exemption to the usual policy. This is a one-off."
The deal means Australia's $90 billion contract with French shipbuilder Naval Group is likely to be scrapped.
The French deal was one of the world's most lucrative defence agreements. It has been beset by issues and delays due to Canberra's requirement that the majority of the manufacturing and components be sourced locally.
The plan was to create a diesel-electric version of Naval Group's 5,000-tonne Barracuda nuclear-powered submarine by removing its reactors and installing diesel units.
Australia will now switch to an American-made nuclear-powered submarine.
The British government is expected to support Australia with reactor technology locally.
There are also some suggestions that the US is planning to operate some of its Virginia class nuclear-powered submarines out of Perth's naval base, HMAS Stirling.
The previous plan with Naval Group would have seen 12 submarines built in Adelaide, but with the submarines now to be built in the US, Adelaide is expected to retain deep maintenance duties on the Collins class submarines, rather than see it shift to Perth.
Terminating the French contract is expected to cost taxpayers up to $400 million.
Independent Senator Rex Patrick, a former Navy submariner, says Australia will have serious troubles trying to run nuclear submarines because it does not have adequate experience with nuclear technology.
"Acquiring, operating and maintaining a nuclear submarine fleet without a domestic nuclear power industry is a challenge that must not be underestimated," he said.
"The nuclear safety and non-proliferation safeguards issues are unquestionably complex and likely to be controversial.
"This proposed project would also most likely require new treaty level agreements with the United States and/or the United Kingdom, requiring Congressional and Parliamentary approval.
"There are many significant issues that will need to be properly considered and I fear that they haven't yet.
"The Senate Foreign Affairs, Defence and Trade References Committee will need to undertake a wide ranging and rigorous inquiry to inform Government, Opposition, the Parliament and most importantly the Australian people before the next election.
"It's a huge decision, taken as a consequence of an absolute procurement shambles by the Turnbull and Morrison Liberal Governments.
"We don't want an even bigger repeat of that failure and this massive project should not proceed further without full transparency and scrutiny."