Sector slowed by skills gap

Print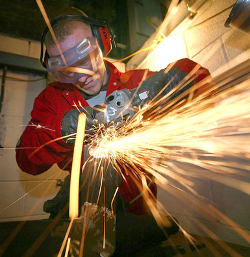 A skills shortage could put Australia's infrastructure pipeline in danger.
Industry bodies and experts say a deepening skills shortage and tough competition for access to basic building resources could blow out the costs of projects needed to keep pace with population growth and the slowing economy.
Infrastructure Australia says cities are facing crippling congestion, with inaction to cost the national economy nearly $39 billion a year by 2031.
Civil Contractors Federation chief executive Chris Melham says the mining boom has taken potential construction workers away from the industry.
"At the moment, if we were to double our infrastructure spend, we would simply not have the workforce," he said.
A lack of investment in skills training. Is partly responsible, he said.
"The big attraction to someone entering into a training regime is being able to move into a job after that, and we believe that's missing at the moment," Mr Melham said.
Others have suggested that a patchwork of inadequate training across the nation has created a shortage of skilled workers.
"We have an infrastructure boom, but we're having trouble servicing that boom and keeping it going, particularly with people," said Innes Willox, chief executive of the Australian Industry Group (AiGroup).
Additionally, the industry has highlighted access to extractive resources — such as sand and aggregate — as an issue.
Quarry owners say they are struggling to keep up with demand just from current major projects, suggesting Australia will need to import sand and cement from overseas, pushing up costs.
"The stone, quarrying materials, all of that sand is becoming more and more difficult to gather, we're talking more and more about importing those goods," Mr Willox said.
The Federal Government says it is working with the states and industry to address skills and workforce challenges.
"We are keenly aware of the skilled workers Australia will need into the future. That is why we are undertaking wholesale reforms to the VET sector to create better outcomes for students and employers," a spokesperson told reporters this week.