Union division on Work Choices or not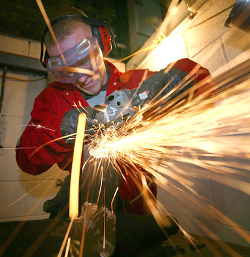 A war of words is brewing as to whether a review of industrial relation is a return to Work Choices.
The review, commissioned by the Abbott government, was described by Labor leader Bill Shorten this week as "another trip back to Work Choices", but one former union official suggests this is not the case.
The draft report of the Productivity Commission into workplace relations was released earlier this week.
The report proposes "reform" that includes cutting Sunday penalties and an overhaul of the Fair Work Commission, a point that has dominated headlines this week.
"I think it is a good, balanced report, which keeps the system fair but deals with the more important flaws in the current system," former Business Council of Australia president Tony Shepherd told Fairfax reporters.
"Reform of [the commission], greenfields, penalty rates, individual bargaining, rights of access and unmeritorious claims are all long overdue.
""I still believe the minimum wage is too high and a contributor to high youth unemployment. It should be re-indexed to bring it in line with OECD norms over time.
Former Australian Council of Trade Unions (ACTU) senior official Tim Lyons has written in an article for The Monthly that the review's recommendations "share a pedigree with and might bear a resemblance to it, they aren't Work Choices".
"It's tempting to simply reach for the cheap 'Work Choices is back' line. Many in the union movement and the ALP have already started doing so. That's almost certainly a mistake.
"For one, [a] large number of the young workers who would be most immediately affected by the PC's plan were in primary school when Your Rights At Work kicked off. You may as well talk about Kim Beazley's rollback when fighting the current GST push."
Mr Lyons, who resigned from the ACTU after a failed attempt to unseat current ACTU secretary Dave Oliver, said "progressive forces" within the Labor party should be cautious in their pitch to create public opposition to the recommendations.
"Opinion research from as long ago as the 2010 election period indicates a waning unprompted public memory of what Work Choices was and/or why they had disliked it," he said.
"This was even more the case by 2013. It is unsurprising that it and, indeed, IR (industrial relations) as an issue of importance to voters dimmed in the public mind, given the election of Labor in late 2007, the repeal of the law, and the Coalition's repeated repudiation of the policy.
"It should not be presumed that workers or voters generally understand what is meant by the term. Use of the term Work Choices may result in an insider political conversation, not an organising conversation, or even a campaigning conversation, with the community at large.""
Mr Lyons said the success of the Your Rights At Work campaign message came from the promotion of public opposition to specific parts of Work Choices, like "unfair individual contracts, lack of unfair dismissal protections, and attacks on the independent umpire".
But the analysis fell short of any deep attacks on the ALP, devoted largely to attacking the commission's recommendations, which he said were based on "thin evidence".
"With the exception of a couple of modest and imprecise suggestions all the 'repairs' suggested break in favour of employers," he said.
"A summary of the 'repairs' is that they wind back important protections and entitlements for workers, restrict the ability of workers to organise successful in unions, and attack the powers and independence of the Fair Work Commission."
In radio interviews this week, Prime Minister Tony Abbott reiterated that any changes to penalty rates would be determined by the Fair Work Commission.
Mr Abbott says many industries struggle under the weight of Sunday penalties.
"There are parts of our country where it's very hard to find anything open on a Sunday now," he said.
"I think there is a case for looking again at these issues but I stress this: as far as this government is concerned, these are matters for the Fair Work Commission."
Treasurer Joe Hockey told Sky News that the Government "would encourage business to be more pro-active in their engagement with the Fair Work Commission" on the issue.