Contract Law Fundamentals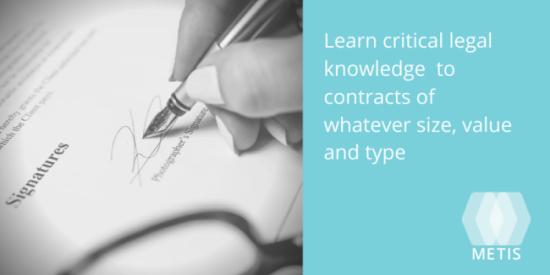 Contract Law Fundamentals
This course informs business and government about contracts, delivering critical legal knowledge for anyone who has any exposure to contracts of whatever size, value and type.
During the one day intensive program you will examine the law and commercial factors affecting the contract lifecycle, from formation, through performance to completion, you will be provided with essential guidance on:
understanding clauses and terminology
risk identification; allocation and management
standard form contract and general contract termination, and
dispute resolution.
With this knowledge, you can ensure that contracts are prepared properly from the outset, setting a clear path to maximise outcomes. You will be provided with the tools and knowledge to know your rights when you are not getting what you expect out of your contract. You will also learn how to recognise whether the contract is on the right path, and how to end the relationship either amicably or through dispute, when it is not. Incorporating a focus on interactive workshops and real- life case studies, this course covers all the need-to-know essentials.
Contract Formation Essentials
Heads of agreement explained and explored
Engaging the market - contractual issues in the tender process
Understanding and dealing with intellectual property
Liability, indemnity, warranties and insurance
Risk allocation
Managing contracts through boom and bust
Breach of contract
Dates
SYDNEY - March 26
SYDNEY - July 23
"Metis Contract Law Fundamentals course was very well run and provided a wealth of information regarding the use and implementation of contracts. The course director was well spoken, has a wealth of experience that he was more than happy to share. The course materials are very detailed and will definitely be used as a reference in my future work." -
Project Manager, Aver - Kieron McIlvin

Book here - https://metispd.com/products/contract-law-fundamentals
Course Director
Practicing for in both the private and public sector, Scott Alden works on large strategic projects and infrastructure projects, and advises clients in relation to commercial contracts, procurement and probity.
Scott has specific expertise in government and commercial law, infrastructure projects, general contractual and legislative advice and the tendering process and commercial contracts of all kinds and sizes and for all industries.
Scott is a Partner at Holding Redlich. He has experience in major developments such as government capital and services procurement and infrastructure contracts and performance.
Scott is also highly regarded in the areas of government, water, defence, public transport infrastructure (buses, trains and ferries), IT requirements, tertiary institutions (universities) and ports.
Scott is a member of the Law Council Building and Construction (Infrastructure) Committee, a guest lecturer at the University of Melbourne (Masters of Construction Law Program), past chair of the Business Law Committee of the Law Society of NSW, as well as a past Councilor of the NSW Law Society and current executive member of the Commonwealth Law Association.