First listed on: 06 December 2019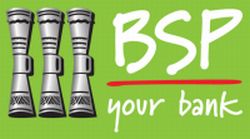 Head of Corporate - Solomon Islands
Bank South Pacific (BSP) is a modern and energetic bank with the largest branch, rural and electronic banking networks in Papua New Guinea, Fiji, Solomon Islands, Cook Islands, Samoa, Tonga, Vanuatu and Cambodia. BSP is committed to providing the highest level of service combined with market leading financial solutions to our corporate and retail customers.
BSP is seeking a highly motivated and experienced Executive Banker to work in our fast-growing and expanding organization.
Reporting to the Country Manager – Solomon Islands, the Head of Corporate, based in Solomon Islands, is responsible for identifying, planning and selling lending, investment & foreign exchange products to high-valued clients to achieve growth and profit goals.
The successful applicant will be required to:
Management and oversight of BSP's Corporate, Commercial and SME customers.
Maximise opportunities for new business and retain high-valued customers.
Conforming to budget objectives and achieving budget key results.
Review and maintain effective and efficient internal processes to achieve high quality customer service.
Ensuring that rules, regulations, policies and procedures are adhered to by Relationship Banking staff.
Provide a role model leadership that encourages and empowers staff within Relationship Banking to provide quality customer service.
Implement training and development plans for staff in Relationship Banking and recognise and reward high achievers.
Preferred Qualifications, Professional/Technical Skills & Experience:
Undergraduate degree (minimum) in a Business discipline from a recognised university or college (preferred).
10 years' experience in in a management position with exposure across retail, commercial and corporate lending.
Strong Credit acumen and experience; and sound, well-managed compliance capability.
Excellent communication & interpersonal skills
Salary offered will commensurate with skills and experience of successful candidate.
Forward your application to David Anderson, Country Head - Solomon Islands, Bank south Pacific Limited.
PO Box 37, Honiara, Solomon Islands | Email: jobs@bsp.com.pg
Full details of the position are available on our website.
Applications close Friday, 10th January 2020.
Only shortlisted applicants will be contacted for interviews.
Closing Date:

10 Jan 2020
Location:

International - Solomon Islands
Work Type:

Full Time
Category:

Business Development
Credit
Economics/Commerce
Lending
Management