Big firm defunds fossils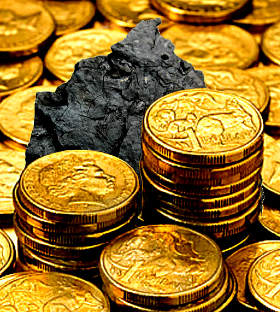 Goldman Sachs is abandoning coal.
The Wall Street behemoth has announced it will no longer finance new or expanding thermal coal mines and coal-fired power plant projects worldwide, nor will it direct finance to new Arctic oil exploration and production.
Goldman Sachs has also committed to phase out financing for significant thermal coal mining companies that lack a diversification strategy.
Its policy "still lags behind its leading global competitors" the company said, adding that it "remains far from alignment with what is needed to limit climate change to 1.5 degrees Celsius".
The big shift in global financial markets is being seen as a watershed moment by some.
"The world could well look back on 2019 as the tipping point," a new report by the Institute for Energy Economics and Financial Analysis (IEEFA) states.
"[The moment] when global capital markets accepted the technology-driven inevitability [of a] crossover from polluting thermal coal and increased uptake of sustainable clean renewable energy."
It is not a universally accepted view yet, as IEEFA is avowedly pro-renewables.
The report shows the value of clean energy companies soaring worldwide, while businesses that make their money from fossil fuel energy have seen their stocks in sharp decline.
Major listed coal companies have "destroyed significant shareholder value over the year", the report notes, showing Whitehaven Coal's shares down 37 per cent, Yancoal Australia down 18 per cent and New Hope Corp down 37 per cent.