Fossils drop in big green growth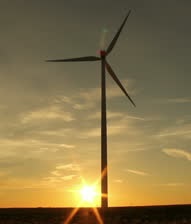 Renewable energy is taking over as stats show green power has grown while fossil fuels tumble.
Global renewable energy capacity saw a big surge last year, growing by about 9 per cent.
"The world now adds more renewable power capacity annually than it adds from all fossil fuels combined," according to the new Global Status Report by researchers at REN21.
"By the end of 2015, renewable capacity in place was enough to supply an estimated 23.7 per cent of global electricity, with hydropower providing about 16.6 per cent."
Growth in renewable energy has been boosted by a number of factors, including more willing financing, more sympathetic policies, growing public energy security and environmental concerns.
But beyond all these aspects, the cost-competitiveness of renewable energy sources are the biggest driver.
"This growth occurred despite tumbling global prices for all fossil fuels, ongoing fossil fuel subsidies and other challenges facing renewables, including the integration of rising shares of renewable generation, policy and political instability, regulatory barriers and fiscal constraints," the report said.
International Monetary Fund (IMF) reviews claim fossil fuel companies received subsidies of about $US5.3 trillion ($7.3 trillion) worldwide last year.
While the old model is propped up by international governments reticent to change, solar PV capacity has grown by 27 per cent, while wind power is up by 17 per cent.
"For the sixth consecutive year, renewables outpaced fossil fuels for net investment in power capacity additions," the report said.
"The year witnessed both an increase in the number of large banks active in the renewables sector and an increase in loan size, with major new commitments from international investment firms to renewables and energy efficiency.
"New investment vehicles - including green bonds, crowd-funding and yieldcos - expanded during the year."
The REN21 research found the renewable energy sector workforce – outside of large-scale hydropower - increased in 2015.
Green power now employs over 8 million people, much of which are in with solar PV and biofuels.
China and the US are at the top of almost all global rankings of renewable capacity and investment, but Australia has made it into the top 10 for rooftop solar.