Gas game to stay swollen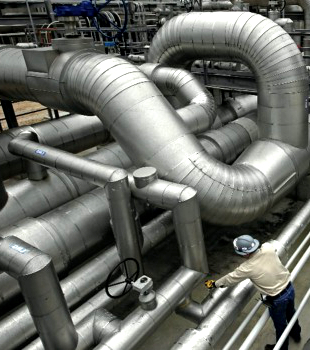 The International Energy Agency (IEA) says the LNG glut will continue.
New reports from the IEA say the global liquefied natural gas (LNG) market will remain over-supplied until at least 2020, meaning low prices will continue.
It does not look good for the Australian resources market, much of which hinges on success in LNG.
The IEA has slashed its forecast for gas demand, saying it will decelerate to 1.5 per cent between 2015 and 2021.
It is a big drop from the previously-forecast 2.5 per cent growth over the six years before and the 2.2 per cent growth over the prior decade.
Global LNG exports are set to increase by 45 per cent between 2015 and 2021, much of which originates from Australia.
"Barring any significant supply disruption, markets will struggle to absorb these incremental supplies," the IEA has warned.
Four of Australia's seven big new LNG plants have commenced production, setting the market on a path to almost double gas production from 2015 levels of almost 80 billion cubic meters to 153 billion cubic meters in 2021.
"Slower generation growth, rock-bottom coal prices and robust deployment of renewables constrain gas's ability to grow faster in today's low-price environment," the IEA said.
"Reversing a long-standing trend, gas usage in power is projected to grow more slowly than total demand; its share of incremental demand falls to one-third compared with almost half between 2009 and 2015."
The IEA finds little to be excited about in the global market.
"Europe's flexibility to take in additional LNG is limited by slow demand growth, cheap coal, and competitive Russian supplies<' the report said.
"Demand in Japan and Korea — which today account for almost 50 per cent of global LNG imports — is forecast to stagnate or even decline sharply depending on the scale of nuclear comeback in Japan."
The IEA's medium term Gas Market Report for 2016 is available here.