Nine offloads regional news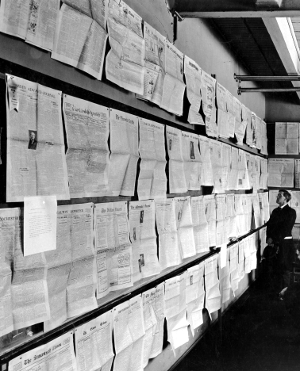 Nine has sold more than 160 regional newspapers to a former Fairfax employee.
Nine Entertainment has reportedly agreed to sell Australian Community Media (ACM) to former Fairfax Media executive Antony 'The Cat' Catalano and the Thorney Investment Group, which is controlled by billionaire businessman Alex Waislitz.
The deal covers more than 160 regional mastheads, including The Newcastle Herald, The Illawarra Mercury, The Canberra Times, The Land and The Examiner.
Nine Entertainment bought Fairfax Media last year in a $3 billion deal, which included a majority stake in the Domain real estate classifieds business, streaming service Stan and a 54.5-per-cent stake in the Macquarie Media radio network.
Nine has shown very little interest in running newspapers, saying the sale aligns with its strategy "to exit non-core businesses and focus on Nine's portfolio of high-growth, digital assets".
The $115 million sale proceeds will be used to pay down debt within the Nine Group.
Nine is keeping the metropolitan mastheads The Age, The Sydney Morning Herald and The Australian Financial Review.
The sale of the regional papers marks the end of their association with city counterparts.
Twenty-four-year veteran Newcastle Herald reporter Michael Pariss said it was a sad day.
"It's confirmation that the Newcastle Herald and other significant titles that have been in the group won't be part of the Fairfax group anymore, even though Fairfax doesn't exist anymore there's still that connection," he told the ABC.
"We have professional links with those people, our stories appear in those papers, it's seen as a stepping stone for young reporters to move onto those titles, to progress those careers.
"In that sense it's sad that those links have been lost.
"We feel like we're still doing a good job and we're hopeful that under the new owners there'll be maybe some investment in the paper to help us continue doing that and maybe even improve on that."
The Media, Entertainment & Arts Alliance director Katelin McInerney said: "There are about 650 editorial staff employed across the country by the ACM group. It is essential that the individual audiences for each of the group's mastheads be respected".
"The business model that Antony Catalano introduced at the Fairfax Domain group was to combine the editorial of several mastheads into near-identical content. Editorial cutbacks meant that genuine local reporting was gradually whittled away in favour of bland vanilla news stories shared across several mastheads, regardless of what individual audiences wanted.
"You can't do that with regional newspapers. The ACM mastheads are supported by fiercely loyal readers. The newspapers must continue to provide local news, information and entertainment to the communities they serve. Their readers are entitled to have local editorial content, not homogenised news generated from somewhere else."