Phone calls show the weight of union heavies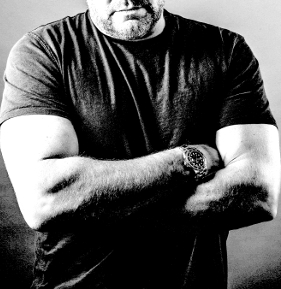 The trade union corruption inquiry has heard secretly-recorded phone calls that allegedly reveal thuggery and workplace manipulation in action.
The Royal Commission into Trade Union Governance and Corruption has heard allegations of corrupt payments, intimidation and cartel behaviour by the ACT branch of the Construction, Forestry, Mining and Energy Union (CFMEU).
A number of tapped phonecalls have been submitted as evidence.
In one, CFMEU organiser John Lomax appears to tell an unnamed contractor that he would face consequences unless he signed up more of his employees to the construction union.
He tells the contractor that his bosses are not happy, and an urgent meeting is needed.
The builder is told that the union could tear up his enterprise agreement and keep him out of future work in Canberra.
John Lomax: We'll be delivering some action. Unless we get this meeting sorted out straight away mate, you're...
Contractor: What do you mean moving some action?
John Lomax: Well I don't know what sort of action we're going to take mate, but one - one would be - one would be my suggestion of ripping up your EBA.
Contractor: Rip it up?
John Lomax: Yeah.
Contractor: Does that mean we can pay our workers what we want after?
John Lomax: F***, no.
Contractor: Yeah.
John Lomax: Well you - yeah, but you won't be doing f***ing any - without the EBA, you won't be doing any work on commercial sites.
Mr Lomax is already facing a blackmail charge, but has not yet given evidence to the commission.
He is expected to appear soon.
In previous sessions, a secretly recorded phone call was allegedly showed two construction union officials discussing how they would disrupt a Canberra building site.
The call was from CFMEU ACT organiser Tony Witler to assistant secretary Jason O'Mara about the builders of the Brooklyn apartments in Canberra, who were about to attempt a concrete pour.
Jason O'Mara: Hello?
Tony Witler: How're you going mate?
Mr O'Mara: Mate what's happening?
Mr Witler: Just letting you know we're down at Brooklyn and they're attempting to set up a [concrete] pump, so we're all down here going to have a bit of a f***ing crack.
Mr O'Mara: No worries man.
Mr Witler: We'll be in touch later on.
Mr O'Mara: Righto thanks mate.
Mr Witler: Bye now.
The commission heard that the union was pressuring the builder, Milin Brothers, to sign up to an enterprise agreement.
Mr O'Mara claimed that the union was just there to address safety concerns.
Another phone tap played to the commission appeared the show Mr O'Mara talking to a representative of a contracted company on a major project in Canberra.
It allegedly revealed the CFMEU official trying to warn the builder off using non-union contractors.
Mr O'Mara: We just want to make sure that while we're doing that we don't have any bloody mishaps with shit contractors early in the piece either, you know what I mean?
Company representative: Yep, I understand.
Mr O'Mara: I did get a little bit of intel that there might be a couple of unsavoury ones on the early works that might be talking to you.
Labor is expected to move a motion in the Senate this week requesting the Governer General dismiss Dyson Heydon, the royal commissioner investigating trade union corruption.