Giant coin visits NYSE

Print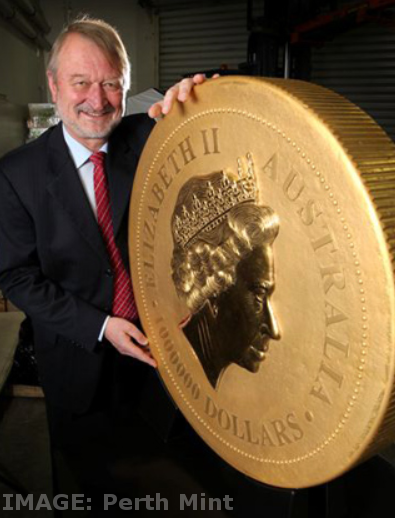 The world's biggest, heaviest gold coin, crafted by the Perth Mint, is now at the New York Stock Exchange.
The colossal one tonne gold coin - measuring 80cm wide and 13cm deep - is made from 99.99 per cent pure gold to promote physical Australian gold being made available to US investors.
Guinness World Records has recognised it as the largest coin ever created.
The coin was worth A$50 million when it was cast in 2012, but is now valued at over A$60 million given the soaring price of the precious metal.
The coin is at the stock exchange on Wall Street to mark the official launch of the Perth Mint Physical Gold Exchange Traded Fund, which is trading under the code AAAU.
"Every AAAU share is backed by physical gold stored in our central bank-grade vaulting facilities in Perth, so at any time investors may choose to exchange part or their entire holdings for a delivery of physical gold to their door," said Perth Mint chief executive Richard Hayes.