Lid lifts on big tax grift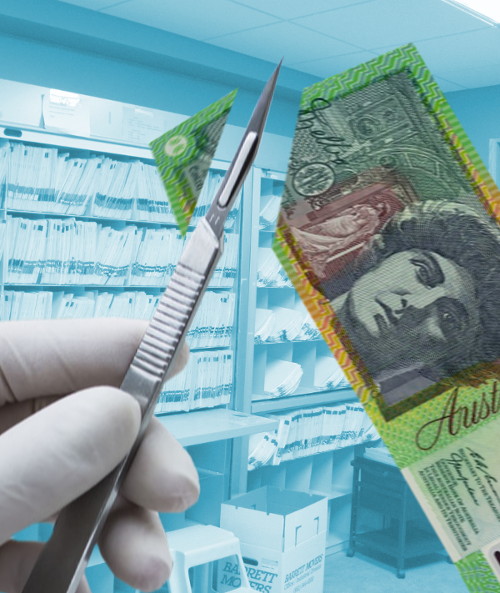 ATO deputy commissioner Michael Cranston has been accused of conspiring to "defraud the Commonwealth".
Mr Cranston will soon be formally charged with abusing his position as a public officer for allegedly accessing ATO records at the request of his 30-year-old son, Adam.
Mr Cranston has also been accused of the more serious charge of conspiracy to defraud the Commonwealth between February 1, 2017, and May 2, 2017, according to Fairfax Media.
Reports say the warrant alleges that Mr Cranston and assistant commissioners Scott Burrows and Tony Poulkakis "did gain unauthorised access to tax records", after a request by Adam Cranston, who is being investigated over a fraud involving skimming money from taxes paid by legitimate businesses.
"It appears that his son has asked him to access some information potentially," Australian Federal Police officer Leanne Close said in a press conference.
"We don't believe that at this point that he had any knowledge of the actual conspiracy and the defrauding."
Michael Cranston has been in charge of high-profile audits of some of the country's richest people and private groups, often seeking stashes of unexplained wealth. This week's events have led some to wonder if these previous investigations may be undermined.
He was caught in a sweep that could expose the largest white-collar fraud racket in Australian history, with 300 federal police officers raiding 28 properties and arresting nine people.
Implications have been raised around high-ranking lawyers, tax office workers and veteran journalist Steve Barrett.
Police allege the elite group of former school friends and business associates amassed $165 million in just a year.
The syndicate allegedly operated a legitimate payroll company, Plutus Payroll, which accepted money from legitimate clients, including government departments, to handle their payrolls.
The group includes Mr Cranston's son Adam, his 24-year-old daughter Lauren, her colleague Devyn Hammond, Vaucluse businessman and former television sports commentator Jason Onley, 34-year-old Simon Anquetil, 28-year-old Daniel Rostankovski, former director of Plutus' sole shareholder Dan Hausman, and tax lawyer Dev Menon, who has promoted his "innovative approach to tax" online.
It is alleged that the group set up seven sub-contracted companies – with unwitting drug addicts and welfare recipients recruited to act as "straw directors" – to make payroll payments with a small amount of PAYG withheld each time to be siphoned off.
Documents tendered in Central Local Court on Thursday allege that even the straw directors themselves were ripped off - promised payments of $1000 a week which were then trimmed by members of the syndicate down to just $200.
The group appears barely able to keep itself together, with police alleging that two members blackmailed the group at one point, demanding $5 million and threatening to expose the syndicate in the media.
In another instance, it is alleged that one of the straw directors locked the syndicate out of the sub-contracted firm's bank account and withdrawing $25,000.
Intercepted phone calls allegedly show the syndicate's concern after the ATO served garnishee orders regarding unpaid PAYG.
Adam Cranston allegedly told Mr Menon that he would get his father to "look into it".
"He is looking into it but considering he doesn't know about it, it can't be like the biggest thing since Ben Hur," he allegedly said.
"There is no question this would be the biggest tax fraud," Mr Menon replied.
Acting ATO Commissioner Andrew Mills says the ATO's systems have not been breached.
"The investigation has so far not revealed any evidence of actual intervention or influence on audit cases, or of money being refunded, or of tax liability being changed," he said.
He described Michael Cranston as having "quite an illustrious [career] up until this point".
Items seized under proceeds of crime included 25 motor vehicles, 12 motorbikes, 18 residential properties, two aircraft, $1 million in a safe deposit box, firearms, jewellery, bottles of Grange wine and artworks.
Over 100 bank accounts were closed, while Plutus Payroll, a preferred tender for the federal government, had its accounts frozen.