Rinehart finding sheds light on Barnaby's link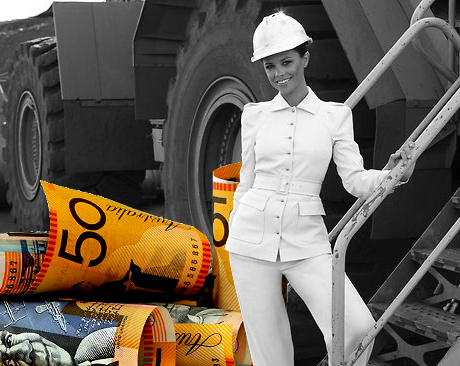 The children of Australia's richest person have wrestled control over their multibillion-dollar family trust.
The NSW Supreme Court in Sydney has appointed Gina Rinehart's eldest daughter Bianca as trustee to the $4 billion account, following the family's long-running, bitter and public legal battle.
Justice Paul Brereton said Bianca Rinehart had the ability to assert the rights of the trust over her mother, and her company Hancock Prospecting.
The order means Gina must deliver the trust documents to her daughter as soon as possible.
One of the alarming details of the most recent case has been the evidence of strong links between the mining industry leader and leaders of the Australian Government.
Justice Brereton said it was clear that Gina Rinehart had "gone to extraordinary lengths" to maintain control of the trust, directly and through surreptitious means.
He said it was a reasonable to infer that Rinehart had tried to influence any trustee trying to move against her interests.
Justice Brereton found "Mrs Rinehart has repeatedly, directly, or through her lawyers, or through other influential connections" sought to deter her children from trying to prosecute their claim by employing measures "some of which closely approach intimidation".
This included calling on her close friends in the Federal Government to put pressure on the Rinehart children.
He pointed to an email that Senator Barnaby Joyce sent to Hope Welker – one of Rinehart's daughters - on September 11, 2011 to dissuade her from litigation.
Senator Joyce reportedly told Ms Welker that it would be in the nation's interest for her to drop her case against her mother,
The mining magnate's estranged son, John Hancock, strongly criticised the strong links between his mother and the elected leaders of the country.
"I think it's nothing short of dangerous," Hancock told the ABC.
"This character [Senator Joyce] sits three chairs down from our Prime Minister."
"Barnaby Joyce's involvement in this has been extraordinary pressure on us," Hancock told News Corp reporters.
"[It] is a dangerous example of a senior politician prepared to jump off a cliff without checking for rocks below.
"How he could endorse my mother's conduct by writing from his government email pushing my little sister to drop the case is outrageous."
Bianca Rinehart is expected to go through the trust records when she finally gets them.
But Mr Hancock believes an appeal by his mother is almost certain, given how hard she has fought every other aspect of the battle.