New Laws Affecting Contracts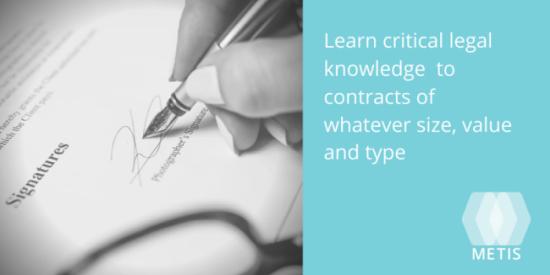 New Laws Affecting Contracts
This course will:
Go through the recent changes in the law
Provide you with invaluable insights into how best to comply with these laws
Using these new laws to your advantage
Take you through important changes to your sourcing documents (procurement and contractual) to ensure compliance and give you the strategic advantage in your dealings
Include interactive workshops to consolidate the learning outcomes and objectives.
In the last year or so we have seen significant changes in:
Unfair Contracts
Dealings with small business
Insolvency and termination rights in contracts arising from insolvency events
Privacy
Data and data breaches
Modern slavery and abuse in supply chains
Retention of Title regimes and statutory protection of security interests
Not being across these legal changes and updates will have consequences for you including:
Finding that your contract clauses are void
Liability for Contract damages arising from terminating where you had no right to (repudiation)
$1.1 m fines
Loss of property and assets to a receiver or creditor that you have superior title to
Loss of reputation
Loss of business
Being at a commercial disadvantage
Register now and listen to our resident expert on commercial contracts and procurement to gain an update on and insight to these important changes.
Dates - SYDNEY - 3 September
Book here - https://metispd.com/pages/new-laws-affecting-contracts
Course Director
Practicing for in both the private and public sector, Scott Alden works on large strategic projects and infrastructure projects, and advises clients in relation to commercial contracts, procurement and probity.
Scott has specific expertise in government and commercial law, infrastructure projects, general contractual and legislative advice and the tendering process and commercial contracts of all kinds and sizes and for all industries.
Scott is a Partner at Holding Redlich. He has experience in major developments such as government capital and services procurement and infrastructure contracts and performance.
Scott is also highly regarded in the areas of government, water, defence, public transport infrastructure (buses, trains and ferries), IT requirements, tertiary institutions (universities) and ports.
Scott is a member of the Law Council Building and Construction (Infrastructure) Committee, a guest lecturer at the University of Melbourne (Masters of Construction Law Program), past chair of the Business Law Committee of the Law Society of NSW, as well as a past Councilor of the NSW Law Society and current executive member of the Commonwealth Law Association.