Bank report makes big calls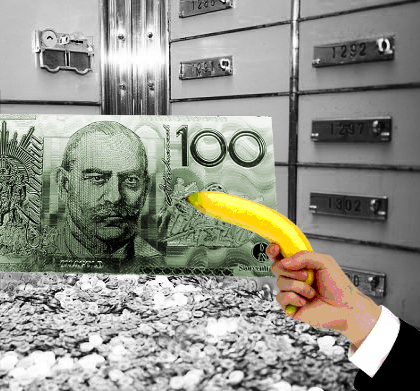 The final report from the banking royal commission spells out overhauls and court action for the local finance sector.
The report contains 76 recommendations, referring 24 more cases to regulators for criminal or civil charges.
The big four banks and AMP could face criminal charges, after Commissioner Kenneth Hayne urged the corporate watchdog to consider prosecutions for dishonest conduct under the Corporations Act.
It is expected that the superannuation and home loan sectors are likely to be dramatically overhauled. The recommendations call for a ban on the hawking of superannuation and insurance products, and to allow people to have only one super fund.
Treasurer Josh Frydenberg said the report revealed "the sale knowingly of worthless insurance policies" earning the banks "hundreds of millions of dollars in fees for no service".
"Who could forget the appalling audio recording of a young man with Down syndrome being subject to high pressure sales tactics resulting in the purchase of a financial product that he clearly did not want, need, or understand," he said.
"This is why the community's trust in our financial institutions has been lost."
Home loan customers may be forced to pay a mortgage broker an upfront fee to wipe out conflicted commissions.
Currently, lenders pay brokers both an upfront and trail commission when they sign up a customer to their bank.
Abolishing lenders' commissions will create a "level playing field between banks and brokers", while the report also calls for a treasury-led group to be formed to oversee the remuneration model and fees.
The commission also addressed the issue of brokers being incentivised to write larger mortgages to receive bigger financial kickbacks.
"It is an incentive to brokers to have the borrower take as large a loan as the borrower can afford regardless of whether the borrower needs to borrow, or is wise to borrow, that sum," Commissioner Kenneth Hayne said in the report.
Mr Hayne said those opposed to change would seek to appeal to the real or supposed difficulty in altering current arrangements.
Mr Hayne said there is no justification for continuing to allow financial advisers to receive banned conflicted remuneration.
The changes are forecast to take up to three years to implement.
Mr Frydenberg said the Government would act on all recommendations, ban trail commissions and review "the implications of removing upfront commissions and moving to a borrower pays remuneration structure".
"We will resource regulators and give them powers to ensure people are held to account," he told reporters.
"Not only can do they do better, they must do better.
"Reforms should make a difference - make a difference now and forever."
Finance regulators were routinely panned for being too weak on financial institutions.
"I think the regulators have also got the message and that timidity that we may have seen in the past is going to be replaced with a front foot approach," Mr Frydenberg said.
The Australian Securities and Investments Commission (ASIC) and the Australian Prudential Regulation Authority (APRA) say they have begun to review their enforcement tactics.
The major recommendations include:
Customers should pay mortgage brokers, not banks
Banning annual commissions to financial advisers
Forcing non-independent advisers to inform clients in writing
Banning the hawking of superannuation and insurance products
Limit people to one default super fund
Scrapping penalty interest for farmers in drought and suffering from natural disasters
A redesign of bank bosses' pay to be undertaken by the banking regulator APRA
Having just a single person legally responsible for all products offered by banks and insurers
The full final report is accessible here.
Some big voices in the sector have weighed in.
"The report is wholly inadequate and fails to get to the core of the issues in the banking sector and the insatiable greed of the banks and lets those responsible - the bank executives - off the hook," said ACTU President Michele O'Neil
"I can understand in the circumstances that many people may be cynical about whether banks will change. To those people I would say, don't judge banks by their words, judge them by their actions, in the coming weeks, the coming months, as they implement this report," said ABA CEO Anna Bligh.
"The abolition of trail commissions and the proposed shift in future to a 'borrower pays' model for broker commissions will need to be very carefully managed so that the objective of better outcomes for consumers is achieved without making it harder for qualified borrowers to find and secure competitive finance for property purchases," Property Council chief Ken Morrison told reporters.